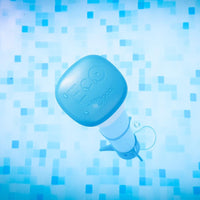 NEW! - EcO Smart Monitor for saltwater
Our new EcO monitor is now compatible with saltwater pools and hot tubs.

Just Let It Float

You just need to put EcO in the water after having followed the step-by-step guide. Using the iopool app, you will then be able to get in real-time readings: pH level, ORP or disinfection capacity, and water temperature.
Why ORP? Oxidation-reduction potential (ORP) or redox determines the general water quality of a swimming pool. It measures the overall level of sanitation. 
Benefits

Discreet;
User-friendly;
Improved precision;
Comes with the free iopool app;
2-year warranty. 
Compatibility Grid
Treatment Type
Spa
Swimming Pool

Salt

✓
✓
Chlorine

✓
✓
Bromine

✓
✓

Active Oxygen


✓

✓

*In addition to a chlorine treatment


This Bundle Includes:
The EcO Salt Monitor;
Iopool WiFi/Bluetooth gateway cOnnect;
Start Guide;
One dosing spoon;
5x

 

Insta 6 test strips

 

with reference card;
20x

 

Easy-Dip salt test strips
Free iopool app access.
Iopool App
The iopool app gives you maintenance recommendations based on the data collected by the EcO monitor. No more guessing games! The app tells you when and how much of a product you should use to keep up with your pool chemistry. 

EcO + Iopool App =  balanced, safe, clear water 24/7
You can free download our app on Apple Store (IOS) or Play Store (Android). 
Iopool Bluetooth/Wifi Gateway
Get your pool's data whenever and wherever you are!  More info here. 
Warning
Eco must stay underwater at all times. Prolonged contact with air may damage the sensors. 
EcO must be stored adequately (following the instructions on the app) when water temperature is below 15 Celsius Degrees or  59 Farenheit Degrees. 
Commonly Asked Questions

What about test strips?
Test strips are still useful to measure the level of stabilizer, water alkalinity, and water hardness. The app will suggest you perform test strips at the set-up stage and whenever it is needed. 
What if I am not satisfied?
If you were not fully satisfied, you can use the 30-day money-back guarantee.
Can I use the monitor with non-iopool branded pool chemicals?
Sure. However, for the best experience, we recommend using our iopool pool maintenance chemicals. Why? Because the recommendation engine is designed around our products.
What is the lifespan of EcO?
EcO has a lifespan of 2 years, after which you can order and replace the monitor: replacement module. Buying this device extends the warranty for two more years.
What is the warranty period of EcO?
The EcO probe is guaranteed for 2 years from the date of purchase.
Do I need to pay for any subscription?
There is no subscription. 

Can I access my data all around the world?
Yes thanks to iopool Bluetooth / Wi-Fi Gateway (included in this pack). By default, EcO uses Bluetooth Low Energy (BLE) technology to send data to your smartphone, so you must be near the pool (approx. 9 m).
What does EcO measure?
The analyzed parameters of the EcO probe are:
Water temperature;
Disinfection capacity (Redox capacity, ORP);
pH (hydrogen potential).
Have additional questions?
Refer to the dedicated section of our FAQ or contact us via in-app support or on the website.


Good for PH
This device works well for monitoring my pool's PH, which is always changing because it's a new pool. So for that alone, it works great. It would be great if the device also gave a chlorine number and a salt ppm. Lastly, not having a replaceable battery was nearly a deal breaker for me.
Works
Hard to do initial setup, written instructions are not clear. Once it's setup it works well however recommendations are really basic.
Great Product
The EcO Smart Water Monitor has helped me to bring my PH into balance right away and is a huge help with my swimming pool! This is a great product and a big time saver!