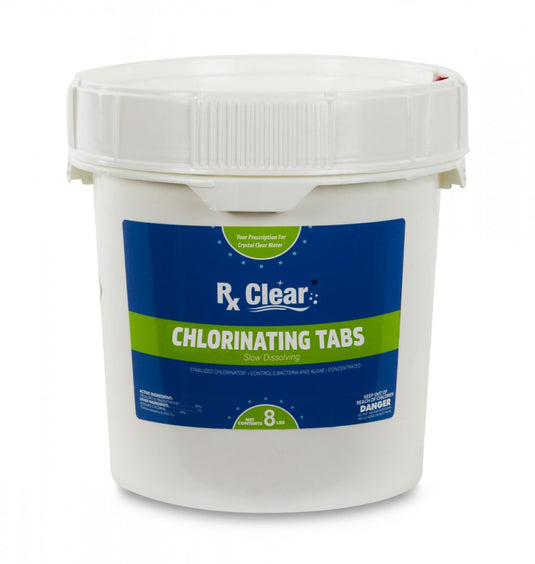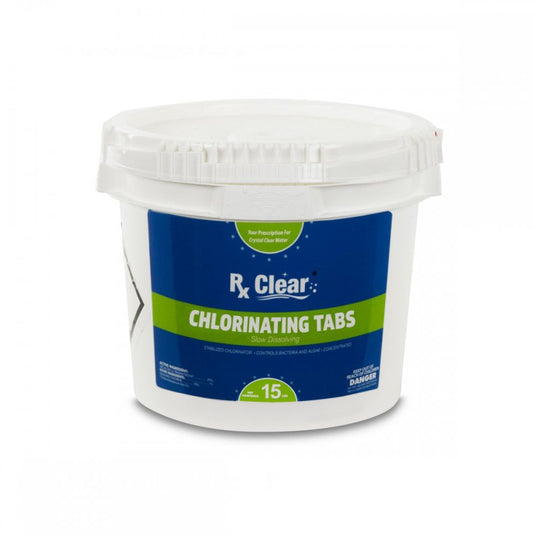 Why use slow chlorine
Use slow chlorine to keep your pool clean and healthy.
Slow chlorine keeps the necessary chlorine concentration for permanent water disinfection and prevents the development of algae.
This selection of Rx Clear® 3" Stabilized Chlorine Tabs are UV Light Stabilized to prevent damage from the sun's UV rays
Use it with our app
You can free download our application on Apple Store (IOS) or Play Store (Android). Then you can follow advice from our recommendation engine to know when and how you can use our chemicals products.
How it works
When it comes into contact with your swimming pool water, chlorine is released and creates sub-components:
active chlorine whose disinfectant effects are active;
potential chlorine, the disinfectant potential of which will gradually be released over time and will therefore be transformed into active chlorine;
chloramine, produced during the degradation of organic matter by chlorine.
Main advantages
High chlorine concentration;
High chlorine grade quality;
Dissolves well;
Quality/price ratio;
Treatment efficiency;
Good friability.
Usage advice
Check if pH is between 7.2 and 7.6;
Clean the skimmer of all impurities;
Place the chlorine pebbles in the skimmer;
Activate water filtration.
Please use one tab per 5,000 gallons of pool water. 1 dose will last up to 1 week.
The tabs are safe for use in automatic chlorine dispensers.
Related blog articles
Find helpful tips, tricks, and information about chlorine on our blog.
Warning
Place chlorine pebble's inside the skimmer or in a floating diffuser;
DON'T put in direct touch with the swimming pool liner to avoid decoloration;
Use biocidal products with care. Read the label and product information before use.;
Made in the USA